Indian Army camp, Fire Fury Corps, Ladakh
Aquatron has got its very own bunker below the frost line to combat cold winters in the high-altitude region of Ladakh!
Sewage treatment has been an ongoing issue for the Indian Army in cold regions as regular sewage treatment plants don't work in winters and even when they are working, aeration is not effective in the thin air of the Himalayas.
To resolve this problem in an environmentally friendly way, they have now installed several Aquatron units in underground rooms where the temperature is designed to remain above 0 throughout the winter. Aquatron separates all solids from flushing water and a purpose-built high-capacity bio-chamber provides a place for slow, odorless decomposition of the faecal solids.
Aquatron also enables easy further treatment of separated flushing water and treated water can be discharged with a good conscience in accordance with local sewage norms.
XIV Corps or Fire and Fury Corps is a corps of the Indian Army. It is a part of the Army's Udhampur-based Northern Command. The 14 Corps looks after military deployment along Kargil-Leh and looks after the frontiers with China, Pakistan and also guards the Siachen Glacier.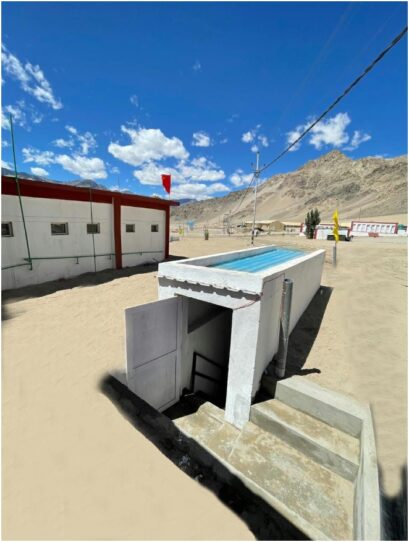 Info
CountryIndia
Installed2021
Products
Links