Easy to install
There are an incredible number of different installations over the years where Aquatron has been used.
Paras tapa oppia on käyttää ilmaisia pelejä. Viron kasinoista Chanzilla on valikoima ilmaisia pelejä. Jos esimerkiksi haluat pelata kolikkopelejä, tarjolla on useita ilmaisia versioita
https://suomikasinot365.com/
, joiden avulla voit ymmärtää esimerkiksi linjoja. Oppiminen on mahdollista myös Facebookissa tarjottavien ilmaisten pelien avulla. Oppimismahdollisuuksille ei ole rajoja, joten pelivalikoima on valtava, mutta on järkevämpää aloittaa peleistä, joissa sinulla on paremmat mahdollisuudet voittaa. Kasinoilla on näissä peleissä pienempi etu, mikä tarkoittaa, että voit voittaa suurimman osan ajasta.
Aquatron is based on the laws of nature.
The Separator can be placed almost anywhere, as long as it is possible to get the correct tilt of the pipes.
Only thing needed, is that water/solids from the toilet come in down angle to the Aquatron Separator, with correct degree the last meter.
The minimum size of space that the Aquatron system should stand on depends on the model.
Expect at least 1-2 m2 and the height 1-1.5 meters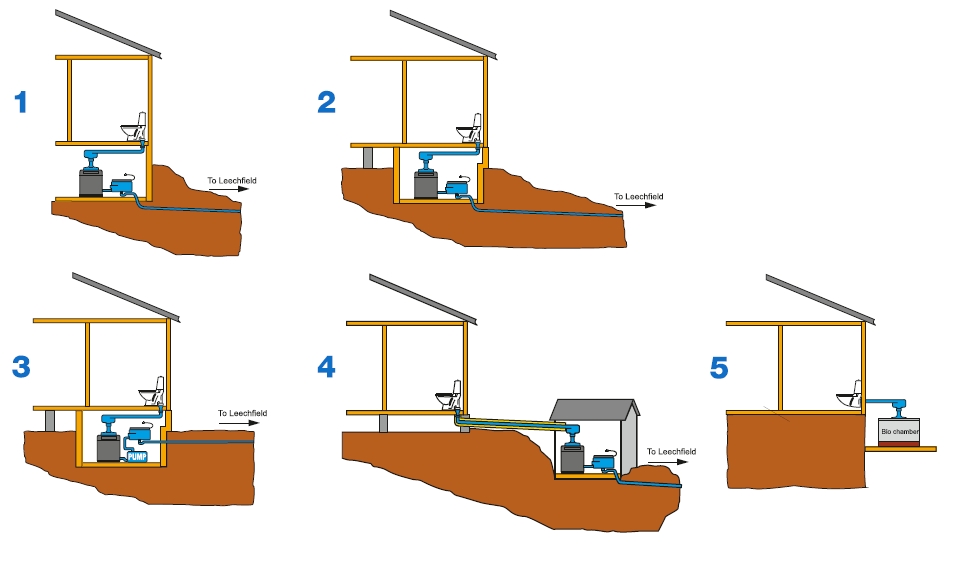 How it works
1. Aquatron uses regular flush toilets.
2, Feces, paper, urine and flushing water are flushed from the toilet to a separator where the liquid is separated to 98%. Separation takes place using the centrifugal force of the water. The separator has no moving parts or energy consumption.
3, Paper and feces fall into the bio-chamber where composting takes place. If compost worms are used, it reduces the volume of about 95%, which gives long emptying intervals. When worms are used, the bio-chamber must be above freezing temperature. The minimum temperature for composting is 15 degrees.
When emptying Aquatron 50, 2×50 and 90 post-composting is needed.
When emptying Aquatron 4×100, 4×200 and 4×300 no post-composting is needed.
4, At high requirements the liquid flows to a UV unit where it is illuminated with ultraviolet light which effectively kills bacteria or to the phosphorus trap.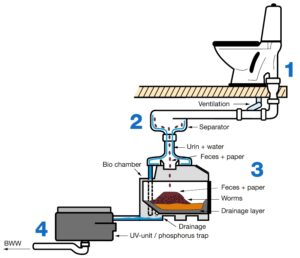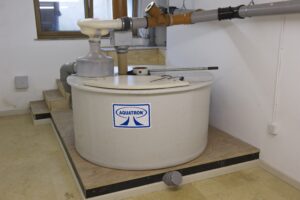 What do you do with the water after the Aquatron system?
The Aquaton system is unique as you can use water toilets and easily reuse the flush water.
There are many different options and solutions used around the world.
Leads the rinsing water to a greywater sludge separator where it is mixed with other greywater from the house, that water can be used in different ways:
filtrated into the ground
Reused as flushing water for toilets (Aquatron's UV is often used to remove bacteria)
Used as fertilizer irrigation of plants (Aquatron's UV to remove bacteria)
Leads to a larger common facility
If urine sorting toilets are used for Aquatron, you use the urine directly and produce your own natural fertilizer.
Which septic tank is needed for an Aquatron?
The Aquatron system simply replaces the first chamber in a three-chamber well where large particles and sludge are to stay. Feces and paper fall into the bio chamber and the rinsing water with urine is led to a septic tank where the household's other BDT water is mixed.
septic tank according to the Aquaton system need to be half as large as a normal septic tank depending on the number of residents in the household. For a household (5 people), a septic tank of 700-1,000 liters is normally sufficient. (check hydraulic capacity per day)
There are many Aquatron users who for many years have their own sludge management of their septic tank with a sludge drain where you mix the sludge with the Aquatron compost for final composting.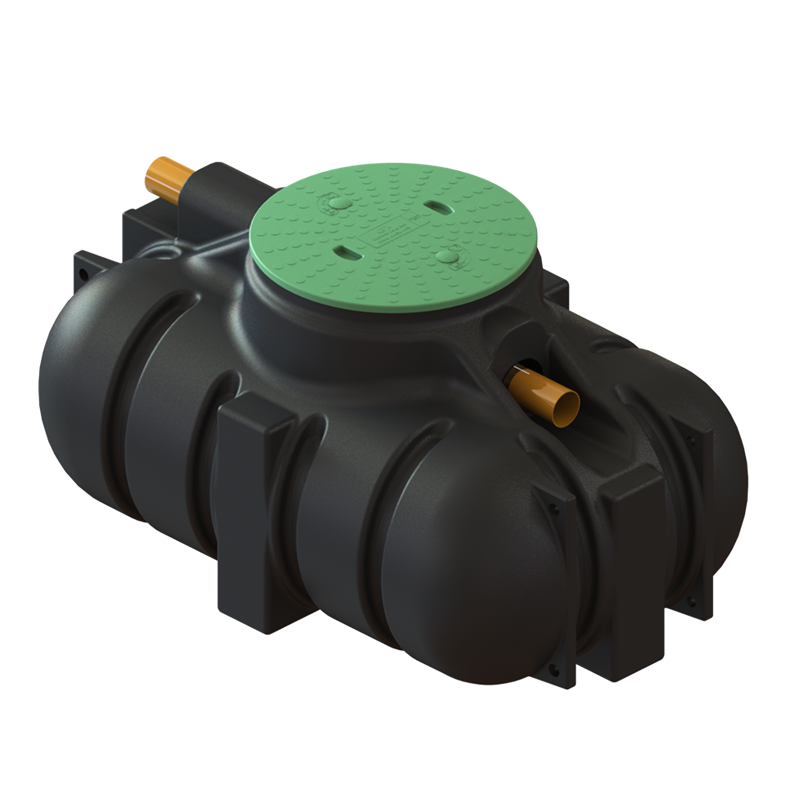 Dimensioning of infiltration after an Aquatron
As the Aquatron system releases toilet water into the ground, you should have an approved infiltration dimensioned for WC water for infection control and which takes care of nutrients.
The size and design can usually be obtained from the local environmental office, it differs enormously in different parts of the world.
We are happy to help with advice that we know works well in many places.
Composting
There are various systems where you can have final composting directly in your Aquatron bio chamber or to change with a new container and let it fully composting.
Or you can compost in a separate latrine compost and it takes about 12–24 months in Sweden's climate.
If you have multi-compartment systems such as 4×100 you rotate a full bin and let it compost afterwards and depending on the temperature (the warmer the better at least 15 degrees) and the balance in the compost, there are many systems that only empty one bin on fine soil every 10 years.
Many systems are indoors in heated spaces and then the composting goes much faster.
Compost worms speed up processes and the incorporation of household leftovers makes the compost more viable. You flush the leftover food in your toilet directly to the compost!